By Kevin Irelan, Assistant Account Executive
Are you single? Not really a question that gets asked much anymore. Maybe it's because these days, that information about a person is very easily found online. Social networks are nothing new to us but what is relatively new is using social networks for dating purposes. Online dating has graduated to mobile app dating. It is currently estimated that in the United States approximately 40 million people have used online dating apps or services. What's even more intriguing is that roughly 27% of those users are projected to be Millennials.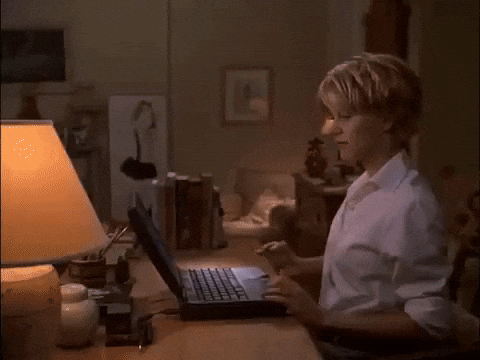 Online dating in its embryonic stages: as told by Meg Ryan and Tom Hanks. Needless to say, things have changed. (Warner Bros.)
Wait a minute…how can those numbers be accurate? Millennials are constantly exposed to their own peer groups and should have no problems meeting new people to date. So why are younger people turning to online dating? It's no secret that human beings have long since naturally craved love, affection, and yes I'll say it, SEX. But why are people seeking it online? We are experiencing a cultural shift when it comes to the world of dating and the results are in: if you aren't online looking for that special someone, you aren't really apart of today's dating world.
At Dieste we specialize in a type of marketing where we connect brands with culture and subcultures. So, as a person who works in multicultural advertising, I am fascinated with how the online dating trends have evolved as our society has become simultaneously more multicultural and more digital. Dating has a historically strong culture of its own and anywhere you go in the world, each place will have its own unique dating culture. Different types of foods, dancing, traditions and rituals can be found all over the world. However, digital cultures are still relatively new and have the potential to connect many people who may have come to the States from different cultures but who have similar romantic interests. We now have powerful tools to meet partners who have different values, belief systems, habits, and tastes that we may have otherwise never met. Today, you can look around and see couples that may look different from one another and speak different languages. Online dating, while it has been around for a while now, continues to evolve the ways in which we connect with cultures outside of our own. Diversity in dating is not only becoming more accepted but it's becoming popular in what has become known as the #SwipeEra.
(Source: Technology Review)
It's not hard to find a dating app, but which one is right for you and just how far are you willing to go with it? When it comes to dating apps, there are all sorts of apps a person can choose from: There is Bumble, which empowers women to make the first move; Tinder which is rumored to be for hooking up; Grindr for men seeking same-sex partners. There is even Tindog and Dogdate so I can find a partner for my dog! Match, OKCupid, Hinge, The League, Christian Mingle, Farmers Only, Zoosk, Senior People Meet; apps for people who like to drink, apps for people looking for a serious relationship, apps for people seriously avoiding a serious relationship and the list just goes on and on.
The common denominators amongst all these apps, however, are simple: (1) People are looking to make connections and (2) they will work tirelessly to curate an image and a narrative to make said connections. Sound familiar? Whether intentional or not, there is strategy and insight when it comes to how these apps are used and how a person sets up their profile. Everything from the types of pictures they use, to what they put in their very short profile is used to attract fellow swipers. Shirtless gym selfies, guys holding puppies or babies, and what about that sweet travel pic? As selection and attention spans are at an all-time low, there is merely a small window to get a person to swipe right and secure a match. As advertisers, we have a similar challenge when it comes to getting the attention of consumers and securing an acquisition. That perfect Tinder picture and short bio are no different from that sponsored link page ad on a Facebook newsfeed. It's all targeted content, right? That first DM after swiping right, how different is that from an RFP anyway?
So which is more nerve wracking: dating or pitching an idea? Digital continues to shape both of these worlds and we are determined to continue to bridge connections between brands and culture and we're working to find the parallels wherever we can.
Next comes the fun part: Consider running your own social experiment, whether you're client or agency side, what dating profile are you? Let us know if you need help creating the perfect profile (for your brand that is, no shirtless gym selfies please).
Dieste, Inc. is a Dallas- and New York-based company with a mission to pioneer the future of how brands and cultures connect. Through our partnerships and the deployment of proprietary consumer data, algorithms and human cultural intel, combined with insightful creativity, we are able to sync brands with consumer subcultures and create successful outcomes for our clients. Dieste has won multiple Cannes Lions for their work and has been named numerous times to Ad Age's "A-list," "Agency to Watch" and "Multicultural Agency of the Year." Dieste is part of Omnicom's (NYSE: OMC) DAS Global network.