By: Erin Clark, Planning Director
It's spring time and love is in the air! And coincidentally tomorrow, April 28, 2017, marks my 10th wedding anniversary (love you, babe), so I'm feeling a bit nostalgic and love-struck. But, let's go back in time a bit further to the 1960's when it was considered the "norm" to settle down and get married at a young age. Needless to say, a lot has changed since then. Today, one-in-five Americans ages 25 and older have never been married, compared with just 9% in 1960. Technological, demographic & social changes are shifting consumer behavior, which is having a huge impact on the $55 billion US wedding industry.
Have You Ever Tasted A 3D Printed Wedding Cake?
No doubt the internet has reshaped the way consumers shop, consume content, and engage with each other, but the changes impacting the wedding industry go far beyond this. In recent years, technological advancements have created tremendous disruptions – from online bridal options to 3D printed wedding cakes – and perhaps nothing has made the wedding process more convenient than having a smartphone available at all times. In 2015, the use of smartphones for wedding planning activities was 89%. Modern day lovebirds turn to their smartphones, social media and apps to handle all aspects of planning a wedding, from finding out what's trending to contacting wedding vendors, to creating and managing registries or personal wedding websites. It is also now commonplace to choose a hashtag and ask guests to tag any posts with it.
Not only has there been a great deal of aggregation to unify the wedding and technology space through platforms like WeddingWire, TheKnot, Honeybook, and Wix, but non-traditional wedding brands, such as Snapchat are capitalizing on the wedding tech craze as well. Just this past year, the company released an "on-demand" geofilter that allows people and businesses to pay for custom filters. These personalized messages are focused on wedding and event content, perfect for the social-savvy millennial couples' save-the-date or wedding announcement. Even Best Buy is getting into the game by offering a wedding registry for those who may want some electronic goodies to go with those pots, pans and fancy flatware.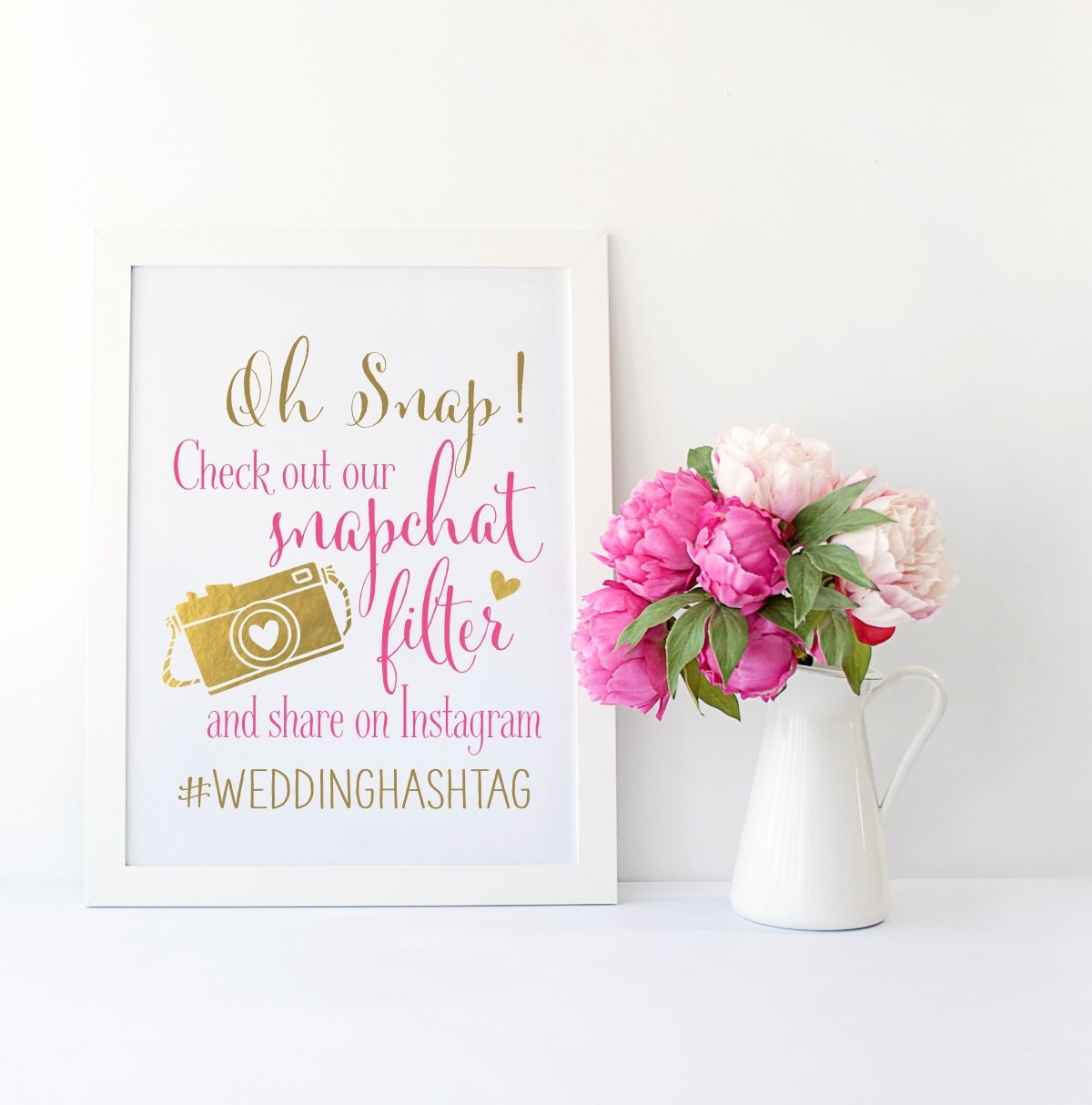 Image credit: LuluGirlsDesign
Moving Beyond Traditional Life Indicators
The Council of Economic Advisors reported that millennials are officially the largest, most diverse generation in the U.S. population. In addition to this general demographic shift, the percentage of interracial marriages has steadily increased over the years, with now over 1 in 10 couples marrying someone of a different race. For Hispanics and Asians, the number is closer to 1 in 4. The blurring of newlywed racial lines has a significant impact on purchasing and consumer behavior, as each individual brings a part of their own culture to their new joint lives.
An additional challenge for marketers is the observation that millennials tend to live by a different set of life goals, typically not following the traditional life indicators like marriage, followed by home ownership and then parenthood. They do things on their own time and in their own way, sometimes choosing to forego the wedding bells before buying a home together or waiting to start a family until they are more settled in their careers. Marketers can no longer confidently assume that a given age and lifestage are intertwined.
As highlighted in a recent Provoke Weekly article, "successful marketers rely on data to provide insights about their consumers, but many times the data may be misleading if not gathered and analyzed correctly." Rather than aggregating people into broad groups, whether it's based on demographics or lifestages, marketers must begin to use data to dig deeper into passion points and shared experiences in order to connect with their audience in a relevant way. Using data to identify experiences or needs and then weaving in the products/services can unify diverse groups and provide a way to circumvent some of the challenges presented by such major shifts in technology and society, ultimately offering a vast array of opportunities for both marketers and brands to reach a powerful market.
We can't help but wonder…
Back in 2003, companies such as P&G, Clorox, Colgate-Palmolive had their products included in "Newlywed kits," small plastic goody bags handed out by county clerks to couples offering samples of Mr. Clean cleaner
and Tide detergent to capture loyal customers as they start their
new lives together. Now that couples are likely to be living together for years before getting married and habits are likely already well established, how can brands "engage" (pun intended) in the increasingly diverse wedding industry?
Erin is a Strategic Planning Director at Dieste and is endlessly curious about cultures and the world around us. She's always had an insatiable desire to travel – to date, she's visited almost 30 countries, with her most recent adventure being in Sri Lanka. Her personal motto: "Explore"